←
→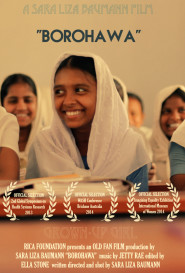 "Borohawa" | Grown Up Girl
Whether you live in South America, Africa, Europe or Asia, all women undergo a natural experience that signifies their transition from childhood to adulthood. It may have different cultural significance, and women have a variety of different experiences, but menstruation is a biological event that women around the world share.
Menstruation is a cyclic period each month when a women's body discharges blood and mucosal tissues from the non-pregnant uterus. Menstruation usually occurs once a month, but the pattern and extent of bleeding can vary from woman to woman.
The embarrassment surrounding menstruation is a universal phenomenon, found in most cultures of the world. To properly prepare girls for this event and to ease this transition there is a need to understand how they manage their menstruation and related implications despite the harsh and unfavorable environment. Setting out with the goal of increasing understanding of these questions, we traveled to a school in Mymensingh, Bangladesh to gather perspectives from adolescent girls.
Produced by Richard A. Cash with support from the RICA Foundation.
*Featured on the "Imagining Equality" campaign by the International Museum of Women and Global Fund for Women 
Directed by
Sara Liza Baumann
Produced by
Richard Cash
Sara Liza Baumann
Script | Cinematography | Editing by
Sara Liza Baumann
Interviewees
Mashida
Mithu
Tasleema
Sweety
Sharmin
Prama
Mim
Jamia
Nargis
Chompa
Riza
Taman
Diglapara
Riaya
Rojina
Rashida
Parveen
Research Assistant
Dilruba Akhter
Translation
Shimul Khan
Research
Joyce Nabalisa
Special Thanks
BRAC Education Programme
Kishori Club, Mymensingh
RICA Foundation