←
→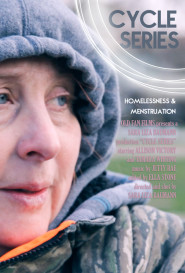 Cycle Series – Homelessness and Menstruation
Using the power of visual methods and the art of storytelling, the Cycle Series engages the Pittsburgh community in vital action-oriented conversations about menstruation as a critical health and gender equity issue.
The Cycle Series of short films explores menstruation and how it affects the day to day lives of those living in Pittsburgh, specifically those experiences that are often overlooked. The short films are created by engaging in a dialogue with those who have experienced these challenges first hand, encouraging epic perspectives and highlighting the voices, words, and stories of those who seek to be heard. The resulting short films are a visually compelling format that is easy to share, and encourages community engagement with tough topics. Experiences of menstruation are nuanced and complex and it is precisely these details that our series addresses through visual imagery and personal narratives. The Cycle Series introduces the viewers to intimate experiences and initiates discussions about how different individuals and communities cope with menstruation, which will lead to a consideration of unique needs in future health research, interventions, and policies that affect those living in the city of Pittsburgh.
This episode explores homelessness and menstruation – What is it like to have your period while experiencing homelessness? What are the unique challenges faced by those experiencing homelessness? What can we do as public health practitioners?
The film premiered in front of an audience of over 100 community members in 2017, followed by an engaging post-film panel discussion. The panel consisted of a Pittsburgh City Council Member, a Board Member and Executive Director of Community Human Services, a Pittsburgh Public School student, and a healthcare provider from the University of Pittsburgh Medical Center (UPMC). This diverse group of panel members brought a range of experiences, and offered a unique opportunity for community members to engage on a wide variety of topics related to menstruation and homelessness in the community. This led to discussions of future projects and policies that should be considered in addressing menstrual health challenges in the city of Pittsburgh. We also worked closely with our media relations specialist to promote the film to a wide audience:
Written, Produced & Directed by
Sara Liza Baumann
Starring
Tamara Whiting
Allison Victory
Music by
Jetty Rae
In collaboration with
SisterFriend