←
→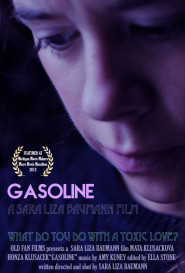 Gasoline | A Toxic Love
Two strangers meet in a land outside of their own. They fall in love with even the things they do not understand about each other. The world at large believes this kind of love to be toxic and unsustainable, but Mata and Honza have bigger problems. They have been contaminated by a feeling, a thought, a magnetic force of attraction that no one can explain. Now the least of their worries is societal judgement- they must figure out how to rid themselves of this chemical that does not wash away.
What do you do with a toxic love?
Language: Czech
Shot on location in Prague, Czech Republic.
Theme song "Gasoline" written and performed by Amy Kuney.
Directed & Produced by
Sara Liza Baumann
Starring
Maru Klusackova
Honza Klusacek
Music by
Amy Kuney
Animation | Editing | Color by
Sara Liza Baumann
Produced by
Old Fan Films