←
→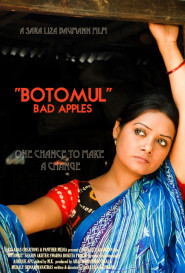 "Botomul" | Bad Apples
Imagine what could happen to the world's poor, if they were given an opportunity to lift themselves out of poverty? Would they take it? And would it be successful? In a remote village in rural Bangladesh, at the "birth place" of micro finance, two families take on this opportunity that changes their lives in ways unexpected.
Written & Directed by
Sara Liza Baumann
Produced by
Ahad Mohammad Bhai
Muraly Srinarayanathas
Director of Photography
Ashique Apu
Starring
Shahin Akter Swarna
Rokeya Prachi
Rumon
Shaju Mehedi
Mohin Bacchu
Richita Nondine Shimu
Also featuring
Refat Chuwdhury
Ahad Mohammad Bhai
Afsana Kamal Srithi
Assistant Director
John Naser Rahman
Art Director
Shabodin
Costume Designer
Samiun Jahan Dola
Editor
M.K.
2nd Assistant Director
Talimul Bahar
3rd Assistant Director
Sohel Roy
Film Coordinator
Sahil Khan
Production Executive
Sheikh Anik
Stills by
Shiper Hasanuzzaman
Music by
Farhan