←
→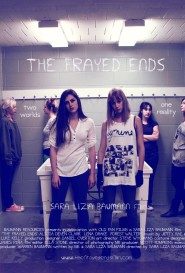 The Frayed Ends
What do you do, when everything you thought you knew was a lie?
The two parallel worlds of Marissa and Ariah are blended between "real" and "fantasy". Marissa and Ariah are two young women who are struggling mentally and physically, and must escape their present lives with the help of each other.
What does it mean to truly be "insane" and who defines it? The Frayed Ends is two worlds, but only one reality.
Written, Directed & Produced by
Sara Liza Baumann
Executive Producer
Baumann Resources
Line Producer
Scott Tompkins
Production Manager Diane Murray
Director of Photography
M.K.
Dan Stewart
Andy Wakeman
Starring
Alicia Devon Clark
Lena Drake
Forest Walters
Featuring
Bart Ingraham
Bonnie Deigh
Scott Tompkins
Jan Dalton
Jill Bochamp
Extras
Emma Schaefer
Naomi Javor
Tahsa Downey
Megan Drumhiller
Sango Tajima
Katie Weismaier
Brian Guttenberg
Jose Garcia
Dan Stewart
Bart Ingraham
Carolyn Hoover
Jan Dalton
Bonnie Deigh
Tyler Griffin
Amanda Benton
Laurie Park
Music by
Jetty Rae
Luke Kelly
Production Designer
Daniel Overton
Art Director
Steve Wygmans
Assistant Art Directors
Nick Brink
Amanda Benton
Costume Designer
James Pina
Editor
Ella Stone
Production Photography
Lindsey Mak
First Assistant Directors
Tyler Griffin
Naomi Javor
Production Department
Micah Oelze
Curtis Pickford
Jake Lewis
Luke Kelly
Production Assistants
Amanda Benton
Tasha Downey
Behind the Scenes Stills
Nick Brink
Song Credits
"The Frayed Ends"
Jetty Rae
Sunshine Wreckchords
2012
Catering
Warren's Kitchen
Evans Geophysical Catering Co.
Special Thanks to Suttons Bay Public Schools
Traverse Bay Area Intermediate School District- Career Tech Center- Film and New Media Program
Left Foot Charlie
O'Keefs
The Wigton Family
The Village at Grand Traverse Commons
Grand Traverse Light House
Evans Geophysical Catering Co.
Lori Oberson
Lindsey Mak Photography
Dan Stewart Photography